Presidential Quilt Project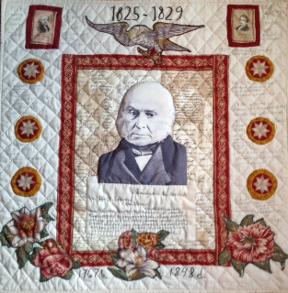 The quilts may be hung using the sleeve on the back or pinned on a drape. The artist statement and a short descriptive addressing quilting styles of the era accompany each quilt.
~~~~~~~~~~~~~~~~~~~~~
If you would like to reserve the Presidential quilt exhibit, the fee is $400 plus s+h. This can be waived by booking my presentation titled "Quilts: Presidential and Patriotic" and trunk show of antique Presi-dential and patriotic quilts. The fee is $450, IRS mileage reimbursement and lodging for travel greater than 2 hours plus $45 per diem. If the Presidential quilts are exhibited at your quilt show, I can provide free gallery tours in exchange for selling my newest book "Quilts: Presidential and Patriotic."
A portion of the proceeds will be used to sponsor a paper for AQSG and to under write documenting Presidential Quilts.
If you would like further information contact me at suereich@charter.net
This exhibit of forty-three, histori-cally accurate, Presidential quilts is available for display at your museum, historical society or quilt guild show from September 2015 to December 2017.
Each quilt measures 24 inches square and is constructed in an his-torically correct pattern and fabric either period or reproduction for each presidential term of office. The makers are quilt historians and en-thusiasts affiliated with the Ameri-can Quilt Study Group.