Canadian Benevolent Quiltmaking during World War II for the Red Cross and the I.O.D.E.
"A penny and a quilt block" was presented at Red Cross meetings of the Raymond Chapter of the Red Cross, Lethbridge, Alberta, Canada in 1943. Attendance was encouraged, essential and expected with roll call taken at each meeting. This Red Cross Chapter had fulfilled their goal by making a quilt every two months with members donating 10 cents each month to defer their expenses.
Canadian benevolence through wartime quiltmaking cannot be understated. In a six week period during the fall of 1944, the country sent 25,000 quilts to Britain and Europe for the relief effort via the Red Cross. Other organizations funneling quilts were Bundles for Britain, the I.O.D.E. (Imperial Order of the Daughters of the Empire), church groups, scout units, women's auxiliaries, etc.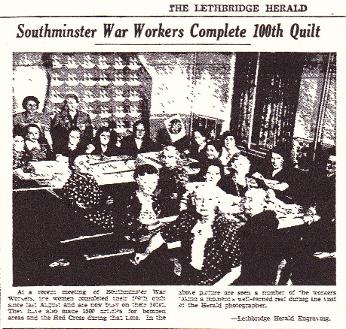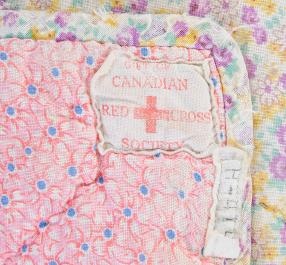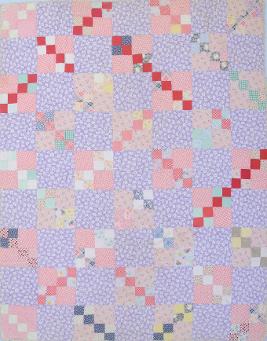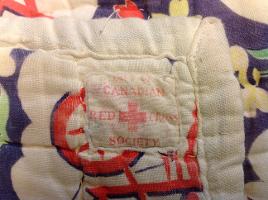 The Lethbridge Herald Lethbridge, Alberta, Canada February 8, 1941 Page 9
WOMEN AND QUILTS
Women who never thought they would make a patchwork quilt are making them now to send overseas. Every Thursday afternoon there are four or five sewing machines whirrling in the Red Cross rooms. Mills in southern Alberta have been spinning wool donated by herdsman around Bassano for blankets for war refugees.
~~~~~~~~~~~~~~~~~~~~~~~~~~~~~~~ This Canadian Red Cross quilt is constructed with 4 matching feedsacks, opened up and sewn back together to create a wholecloth quilt. The Red Cross tag was sewn to a corner on the front of the quilt.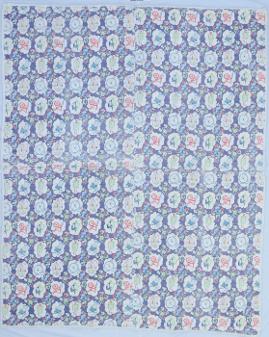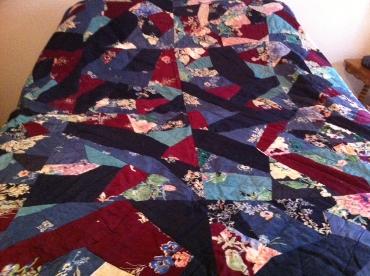 There are thousands of articles in World War II era newspapers about quiltmaking for benevolent purposes. Women made quilts to be donated to the Red Cross and to raise money for the Red Cross. This article from The Lethbridge Herald, Lethbridge, Alberta, Canada on November 17, 1941 best exemplifies the determination, spirit and endurance of Canadian women during World War II.
Most of the tags sewn on the Canadian quilts were generic Red Cross identifiers. This quilt constructed as a Crazy quilt came from Paisley, Ontario. During World War II, there was a Crazy Quilt revival as women needed to dig deeper into their scrap bags for their quiltmaking.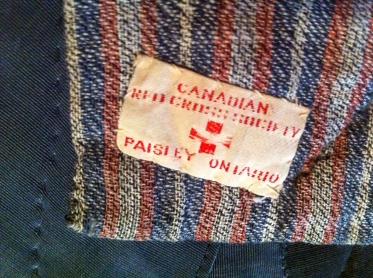 v-v-v-v-v
WOMEN OF WORSLEY
(From the Peace River Record) "Monday, October 6, the Women's Pioneer Club met at the Community Hall with 10 women present, which was considered very good, owing to such bad roads. Only two women came in a wagon, the rest having walked or ridden horseback." The above is an extract from the local news of Worsley, reporting a Red Cross meeting was held there. When the meeting was held the roads were axle-deep in mud, impassable, almost for the wagons. The crops were rotting in the sodden stooks after weeks of rain. But the women of Worsley met to sew on a quilt and to plan for their future meetings. It is this spirit, this desire to make some sacrificial effort that will beat Hitler. At thousands of such settlements, not only in Canada, but throughout the Empire, similar groups of women are meeting. In the back-blocks of Australia, on the burnt velat of South Africa, the women are working with one object and one aim in view. The war wil not be won by knitting socks and making quilts, but the war will be won by that same spirit of self-sacrifice that drives, not only the men, but the women too to greater and greater efforts as the war clouds thicken and the news grows worse. Worsley is not a wealthy settlement and life at the best of times, is hard enough there, but the women of Worsley have one priceless possession-freedom that has been lost to so much of Europe, freedom that the Russian women are fighting for today.
v-v-v-v-v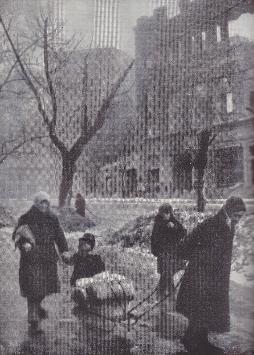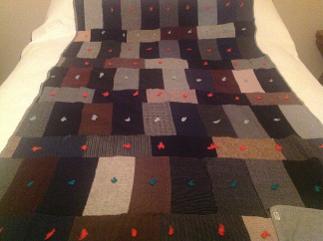 This cot-sized tied quilt was made with wool rectangles and was donated to the I.O.D.E. (Imperial Order of the Daughters of the Empire) during World War II.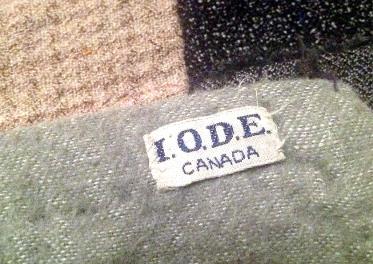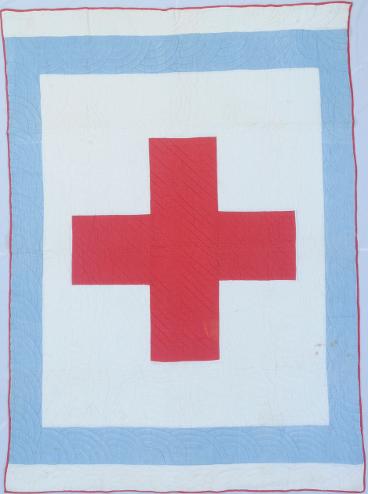 The Red Cross, Bundles for Britain and IODE quilts that remain with us 65 years after being made and distributed to Britain and Europe are now faded and worn. Few survived in unused or newly-made condition. After leaving Canada, one can only guess at their next stop during World War II. Hopefully, the quilts cheered both young and old with their bright designs. Or perhaps they helped soothe a soldier with their warmth and comfort, and brought him memories of his distant home. Some of these quilts endured the war; they survive as records in fabric of the generous Canadian spirit on the homefront in a resolute effort for Victory.